Practical Witch LLC is owned and operated by Friday Gladheart and her partner. Thank you for supporting a woman-owned small business.
35 Wind "n" Wood Trail
Story, AR 71970-7907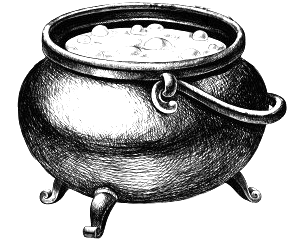 Stay in Touch
Tumblr Pinterest LinkedIn Amazon Author Page
Promote creative Witches! Get our podcast (Practical Witch Talk) through Patreon for just $3 a month or free through your WitchAcademy.org enrollment. Some episodes are released on Spotify free here.
,
Friday Gladheart
Visit Friday Gladheart in person at The Parlour in Hot Springs, Arkansas. Friday can create a custom essential oil blend, candle, or other delights for you. Tarot readings are also available by appointment.
The Parlour
Visit us Inside The Parlour! Located at 340 Ouachita Ave, Hot Springs, Arkansas. Where spooky New England meets the primitive south. The Practical Witch Apothecary is available inside the shop Noon to 5 pm – Wednesday, Friday & Saturday
About Us
Friday Gladheart writes for many Pagan, Wiccan, and secular publications. For decades she has written and illustrated the beloved Practical Witch's Almanac. She spends most of her time making special blends for clients in her Practical Witch Apothecary, teaching, writing, counseling, and developing an organic teaching garden and sanctuary near the oldest National Forest in the southern United States. When possible, she is on tour for book signing appearances, workshops, and classes in Witchcraft, tarot, and herbalism. In 1996 she founded WitchAcademy.org*, the oldest and most highly respected online academy for Witchcraft, tarot, and magical herbalism.
Practical Witch LLC is owned and operated by a staff of two – Friday Gladheart and R. Jensen. Together they are developing a non-profit, organic teaching garden and sanctuary near a National Forest. This sanctuary will become an event center for classes, workshops, and festivals as well as a safe-space for Witches and those following an Earth-based spiritual path.
Custom, hand-made products such as incense, oils, and magical supplies are created from natural herbs and botanicals from the sanctuary. Much of the jewelry offered is crafted from Friday's hand-drawn designs found in the Almanac. Tarot decks and divination supplies are carefully created or chosen to be easy to learn and use.
Stop by The Practical Witch Apothecary inside The Parlour in Hot Springs, Arkansas to get your book signed, or just to chat with Friday. A tour schedule will appear for other areas when travel recommences.
*WitchAcademy.org was formerly PaganPath.com